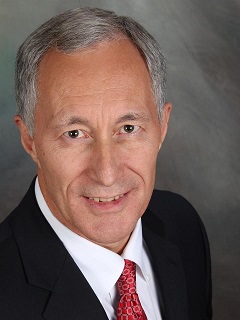 Rev. Dr. Duane C. Pederson
Pastor
The Rev. Dr. Duane C. Pederson began as the interim pastor at St. John's Lutheran Church in April of 2014, and he became the settled pastor of the congregation in November of 2015.
Born in Kalispell, Montana, Pastor Pederson grew up on a farm and ranch, an upbringing that significantly shaped his values, work ethic, and zest for life. He attended Concordia College, Moorhead, MN, where he majored in English and Religion. He graduated from Luther Seminary with a Master of Divinity degree in 1981 and was ordained the same year. While serving Hope Lutheran Church in Bozeman, MT (1981-1985), he received a Master of Education degree in Counseling from Montana State University. He served Edison Park Lutheran Church in Chicago from 1985-1994 and earned a Doctor of Ministry degree at McCormick Theological Seminary in 1991. Pastor Pederson served First Lutheran Church in Eau Claire, WI from 1994-2007 and in 2007 was elected bishop of the Northwest Synod of Wisconsin of the ELCA for a six year term. During 2013-2014, he served as interim pastor at St. Paul Evangelical Lutheran Church in Old Saybrook, Connecticut. Since 2017, Pastor Pederson has been appointed Visiting Professor at Yale Divinity School and is a member of the Lutheran Studies Committee of YDS.
As an ELCA bishop, Pastor Pederson related to over 300 clergy and lay rostered leaders, 200+ congregations, specialized ministries, ELCA churchwide ministries, the Conference of Bishops, Region V of the ELCA, the Wisconsin Council of Churches, the Lutheran church in southern Brazil and Malawi, Africa, and ELCA colleges and seminaries. He was a member of the Board of Regents at Augsburg College, the Board of Directors for Lutheran Social Services of Wisconsin and Upper Michigan, the bishop advisor to the Portico Benefits Board of the ELCA, a director of Mayo Clinic Health System–Eau Claire. As bishop, Pastor Pederson was the chief executive officer of the synod, presided at Synod Assemblies, and represented the synod in ecumenical and inter-faith endeavors.
During his ministerial career, Pastor Pederson has been involved in many community-oriented initiatives and groups to strengthen neighborhoods and better the lives of others: disaster relief work in North Dakota and Nicaragua, battered women's networks, PTSD therapy with Vietnam Veterans, Hmong and Somali refugee settlement, regional food bank volunteer and board chair, homeless shelter, Kiwanis, inmate counseling at state prison, state and national advocacy for the poor in Madison (WI) and Washington DC, communications instructor at technical college, and capital appeal work with hospitals, hunger organizations, libraries, and churches.
Pastor Pederson is married to Charlene and has two sons, two step-children, and five grandchildren. His hobbies and interests include theater, genealogy research, visiting wineries, movies, Lincoln biographies, bicycling, reading fiction, early Montana history, travel, and bacon.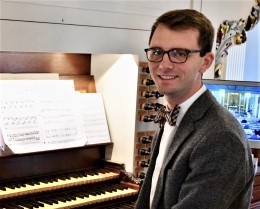 Nathan Lively
CANTOR
A native of southern West Virginia, Nathan began piano studies at age six and was playing in church by age seven. His first piano instructors were Rose Hannah and Margaret Woodrum. During junior high and high school, Nathan studied piano at Appalachian Bible College with Leah Rose Anderson- Gibson and Sarah Rinker. His first organ instructor was Susan Wygal, then organist at the First Presbyterian Church in Hinton, West Virginia, and later study with the late Randall Farley. By age ten he was playing organ each week in different churches in his hometown of Hinton, West Virginia. Nathan's early career as an accompanist began in middle school, and he became the chapel and choir pianist in high school at Ballard Christian High School. While at Ballard, Nathan competed in and won the state West Virginia Christian Education Association three years in a row, earning him the opportunity to compete nationally. National competitions for the American Association of Christian Schools were held at Bob Jones University in South Carolina. Nathan received Second Place three years in a row.
Always feeling a call for teaching, Nathan began teaching high school in 2010 at St. Joseph Central Catholic High School in Huntington, West Virginia. From 2012 through 2015 he taught piano at the Fanny Falk Laboratory School of the University of Pittsburgh.
Today, Nathan is a nationally recognized musician. He is an active performer, educator, collaborative artist, and church musician. He was hailed by the Chicago Tribune in 2015 as one of the nation's leading young organists. Nathan is known for his imaginative programming, revitalization of obscure pieces, and fiery playing.
As a performing artist, Nathan has appeared widely on the East Coast and in the Midwest. Notable venues are Central Synagogue, New York City; Heinz Chapel, Pittsburgh; and Saints Peter and Paul Catholic Church, Chicago. He plays frequently at the historic Bruton Parish Church, in colonial Williamsburg, Virginia. Nathan has performed two recitals at St. Patrick's Cathedral, NYC. Nathan has premiered many new organ solos. The genres in which he is most noted for performing are those of French Romantic and Contemporary organ works, such as Franck and Langlais. While Nathan enjoys performing solo recitals, he often collaborates with other artists.
Upon graduation from high school, Nathan continued his education at Concord University in English Education and also studied organ with Daniel Spurgeon in Beckley, West Virginia. Nathan left Concord University before his degree was completed to accept the position of organist at St. Joseph Roman Catholic Church in Huntington, West Virginia. He subsequently served a brief term as organist at Sinking Spring Presbyterian Church in Abingdon, Virginia, before accepting a position as Director of Music Ministries at Trinity United Presbyterian Church, Uniontown, Pennsylvania. While at Trinity he oversaw a graded choir program with handbells, children, adult, and staff singers, in addition to playing the four manual 110-rank pipe organ, one of the largest in western Pennsylvania. During his tenure in Pennsylvania, Nathan studied organ with the late concert organist William Evans..
Nathan is currently Cantor at St. John's Lutheran Church. Prior to the appointment as Cantor, he was Director of Music. Previous positions include Organist and Choirmaster at St. John's Episcopal Church, Washington, CT, and Director of Music Ministries and Director of Christian Education at Holy Trinity Lutheran Church, Kingsport, Tennessee. Nathan is a member of the American Guild of Organists, American Choral Directors Association, and was Vice-President of the Kingsport Music Club.
Aside from music, Nathan's passions are cooking, especially exploring wines and new foods, reading, traveling, sailing, and skiing.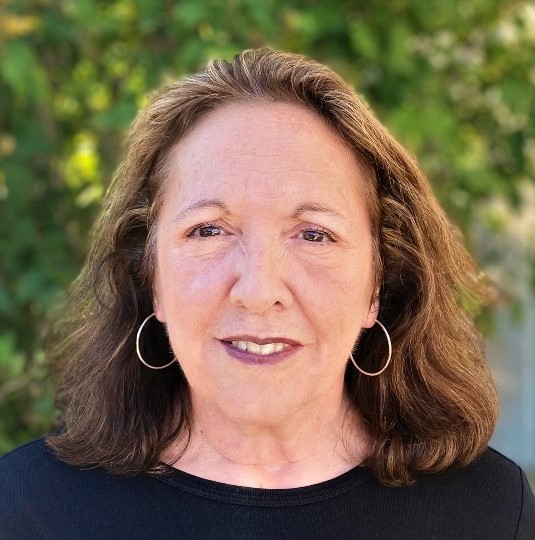 Nancy Rowe
Administrative Assistant
 Nancy is a native Connecticut resident having grown up in Norwalk; she's lived in Stamford and Greenwich before returning to East Norwalk. The proud mom of two grown children; a daughter who resides in Atlanta, and a son, who recently returned from the UK and lives in Brooklyn. She holds a Bachelor of Science, Business Management from University of Phoenix.
After a career spanning over 30 years in the corporate world of business operations, administration, event planning and program management, she still finds herself looking for challenges and wanting to help others. Nance has experience managing several projects simultaneously; working within a global team environment. Through the philanthropy team at her previous employer, she volunteered tutoring local grade school children and currently volunteers at STAR, Inc. in Norwalk.
In recent months, she's become hooked on playing online scrabble, solving NY Times crossword puzzles, dabbling more in cooking/baking and getting back into her love of photography.
Nancy's passions include spending time outdoors walking by the water; whether it be at the Norwalk beach or Gulf Shores, AL. She loves gardening, mowing the lawn, walking 4-5 miles per day, and spending time with family and friends.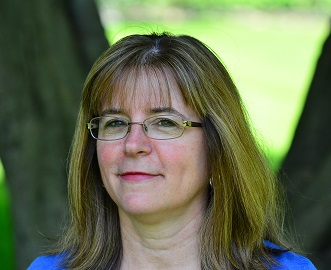 Jody Van Houten
Bookkeeper
 Number cruncher, bookkeeper, bean counter and Dodo are all names to which Jody Van Houten responds. At a young age, and due to the inability to pronounce the name Jody, her niece coined a lifelong nickname, "Auntie Dodo." Henceforth, and much to her family's amusement, she will forever be known as Dodo!
Jody is a suburban dweller, happily married, lover of wine and mother of Irish twin boys. As a sibling to an older and younger sister, Jody stoically soldiers through middle child syndrome, a grievance that has afflicted her for a lifetime. Her math skills began at a young age when she soared through Parcheesi with lightning speed, crushing all opponents in her path, and flourished a bit more while attending Pace University. Her pursuits and pastimes include travel, bicycling, golf and Sudoku.
Jody has enjoyed over 22 years of simultaneous employment as bookkeeper at St. John's Lutheran Church and contracting at various local businesses and entities. These fine places introduced her to new people, lifelong friends, hidden talents, volunteering and new concepts that helped shape the person she is today.