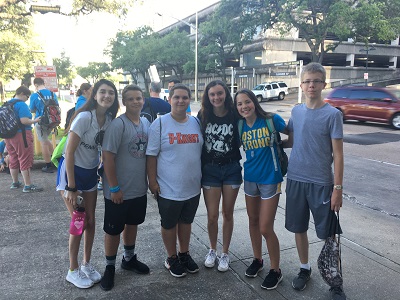 Youth in grades 7 through 12 at St. John's Lutheran Church are involved in a variety of activities: worship, service projects, fellowship events, and large group gatherings. The youth group typically meets monthly and is student led with adult support and oversight.
Worship
Teens serve as acolytes, Communion Assistants, and readers for Sunday worship and special services.
Activities
The youth of St. John's Lutheran engage in an array of activities that includes Kids Dance, overnighters, Advent Night, Lock-In, volunteering at the Pumpkin Patch, theme dinners, cooking and serving at the Pacific House homeless shelter, NYC trips, volunteering at Vacation Bible School, annual Pancake Breakfast, and more.
Hammonasset Youth Gathering – New England Synod
The first weekend after Labor Day, the New England Synod hosts a three-day event at Hammonasset State Park located east of New Haven, CT. Senior high youth from St. John's join over 300 other teenagers from Lutheran congregations in New England for worship, study, music, and fun. 
Camp Calumet
Located on the shore of Ossipee Lake in Freedom, New Hampshire, Camp Calumet is a favorite outdoor ministry of youth and families of St. John's. An outdoor ministry of the ELCA, Camp Calumet is the location for year round camping ministry for all ages, but is used significantly by youth groups.
ELCA National Youth Gathering
Every three years, senior high youth nationwide gather in one location for a weeklong event called the ELCA National Youth Gathering. Around 30,000 meet for group worship, exploration of faith, relationship building, and service projects. In 2018, the Gathering was in Houston, Texas, which our youth attended and we plan to attend the 2022 Youth Gathering in Minneapolis, MN, orginally scheduled for 2021. 
St. John's Lutheran follows "Safe Church Practices" to ensure the safety of our children and youth. All staff and volunteers who work with young people are required to apply, provide references, and have a background check. Volunteers should complete a Volunteer Application and return it to the church office well in advance of any activity where the volunteer will assist children or youth.