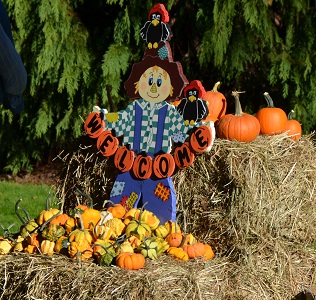 The Pumpkin Patch is an annual mission activity at St. John's Lutheran Church. During the month October, hundreds of pumpkins are sold. All the proceeds are given away. A Navajo tribe receives a portion for providing the pumpkins; all other proceeds are donated to local charities. Food sold at the food tent supports the quilters of St. John's who make quilts for Lutheran World Relief, a world-wide quilt distribution to those in need. This mission activity is "pumpkins with a purpose!"
Note the following about the Pumpkin Patch:
Due to the pandemic, we have decided not to open the patch in 2020. We look forward to hosting the patch in 2021 under safer conditions.
Pumpkins are unloaded on the first day of the patch, from 8:45 am to 12 noon. Come and help unload hundreds of pumpkins from a semi-truck, and ready the Pumpkin Patch for the October sale.
If you would like to sign up for a shift during the month of October to sell pumpkins, we will provide a link to sign up. We need many volunteers to staff the Pumpkin Patch.
You are encouraged to support "Pumpkins with the Purpose" and encourage your friends and neighbors to obtain their fall pumpkins at the Pumpkin Patch of St. John's!